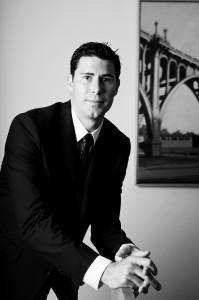 Griffin Cogorno
Acquisitions Manager
Griffin Cogorno is responsible for completing acquisition strategy and due diligence for The O'Donnell Group. These responsibilities include providing Mr. O'Donnell with supplemental support for all facets of the acquisition and development process. Mr. Cogorno is also in charge of marketing strategy and implementation.
Prior to joining The O'Donnell Group, Mr. Cogorno was the Vice President of Newport Capital Group for 7 years heading the commercial finance division managing over 30 employees. Mr. Cogorno also has a background in developing mobile phone applications and SMS notification systems for small to mid-sized businesses.
Mr. Cogorno possesses a Bachelor of Arts degree from the University of California at San Diego where he was the captain of the NCAA Division 1 Men's Volleyball Team. Mr. Cogorno also holds a California real estate license and is a member of NAIOP, Young Professionals Class of 2012 (NAIOP), The DRE, OCAR, CPREG, FLOC, and Families Forward.