Douglas O'Donnell
CHIEF EXECUTIVE OFFICER

In 1992, Douglas O'Donnell started his career in commercial real estate by joining O'Donnell Property Services and later Insignia Commercial Group, Inc. He worked his way up through the companies from Leasing Coordinator to eventually overseeing the leasing and sales activities for the 25,000,000 square foot portfolio.
Click here to read Douglas O'Donnell's full bio.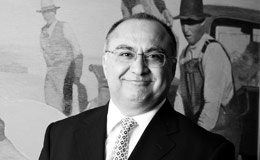 Shahab Taleghani

Chief Financial Officer
As Chief Financial Officer for The O'Donnell Group, Mr. Taleghani serves as an executive manager in which he oversees all accounting for all assets and property management within The O'Donnell Group and O'Donnell Management Company.
Click here to read Mr. Taleghani's full bio.

Oliver O'Donnell

Vice President | Acquisitions & Asset Management
Oliver is a Vice President responsible for acquisitions and asset management with The O'Donnell Group. He sources and underwrites new investment opportunities and is responsible for business plan implementation. He previously worked at Pacific Star Capital, where he focused on commercial development projects with national tenants including Whole Foods Market, Target Corporation, and Tesla Motors.
Oliver has undergraduate degrees in Finance and Legal Studies from the University of Miami and a M.S. in Real Estate Development from Columbia University.